Hei! (that's a common greeting in Finnish!)
Welcome to the fourth Summer Snapshot of 2017!
We're publishing weekly through our busy summer to keep you up-to-date with all things CISV Jacksonville! 
This Snapshot will feature Jacksonville Step Up, Sweden and Czech Interchanges, Finland and Denver Youth Meetings, and Israel Seminar Camp!
Also make sure to read the sidebar about our upcoming events where we would love to see you, particularly the Step Up Camp Breakdown July 22nd!
Sign up for Labor Day weekend Minicamp below.
---
Jacksonville Step Up Continues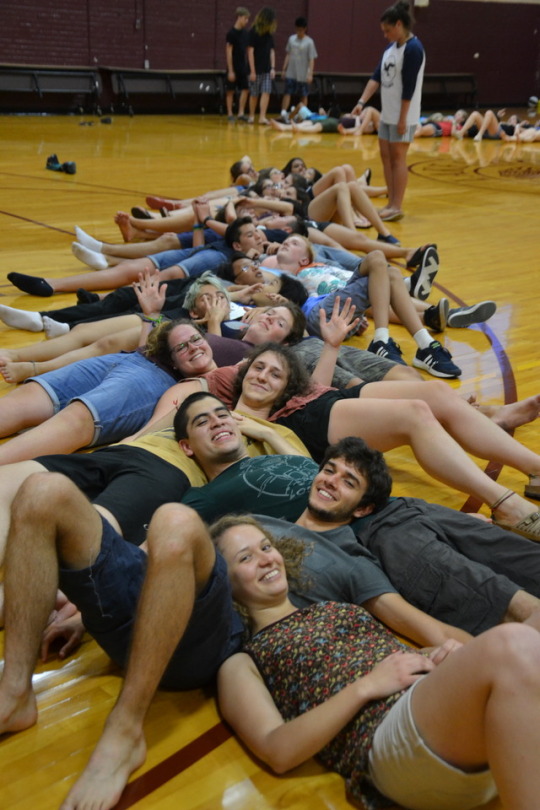 Jacksonville Step Up participates in a day of trust building activites to build friendships.
The Step Up delegates have a "hero" theme and are in charge of their schedule and activites, dubbing themselves "The League". Each day is planned to revolve around a global issue decided by delegates. Pictured above are the delegates working on some of their chosen trust building activities. Click here for more photos!
---
Sweden and Czech Interchanges Leave for Prague and Malmo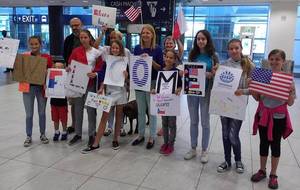 Big welcome for Prague Interchange!
Our Jacksonville interchange delegates arrived in Prague, Czech Republic (age 12 & 13) and Malmo, Sweden (age 14 & 15)! They have been busy getting to know their host families, sight seeing, and starting group activities! The Prague delegation has visited the Prague Zoological Gardens and the Invisible Exhibition, which shows delegates what life would be like without sight!
Sweden Interchange airport selfie!
---
Israel Seminar Camp Departs
Our delegate will be staying in Na'an,
which is the center of Israel! About 87% of people in Israel speak English and delegates will experience
many different kinds of terrain while there.
Israel has beaches, a desert, and mountains with weather being extremely hot in the day and cool at night!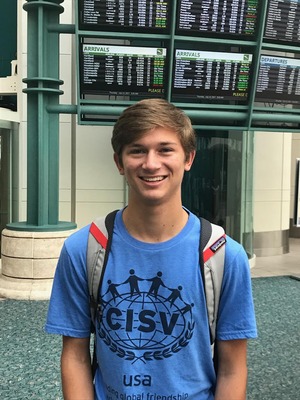 Our Seminar Camp participant in the airport departing for Israel!
---
 Denver Youth Meeting Delegate Raya Leaves for Colorado
Our Jacksonville delegate to Youth Meeting in Denver is off to a great start meeting with others from Argentina, Brazil, Italy, Sweden, and more! The camp theme is exploring the footholds to master in climbing
the mountain that is Human Rights.


Did you know? A Youth Meetings bring small groups of participants of a similar age together from different countries within a region. They explore issues that affect all their countries in some way and share their different perspectives.
---
Caroline Reflects on Seminar Camp
Caroline returned from Seminar Camp in Italy and says, "Seminar was such a rewarding experience. We were able to set our own agenda and decide what we wanted to discuss. We had lots of interesting debates and explored topics such as feminism, 1st world intervention into 3rd world customs, and cultural stereotypes. It was a very cohesive group and we look forward to a reunion in the future."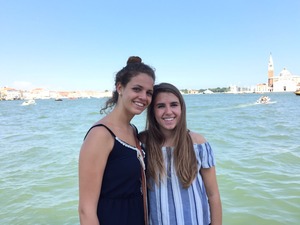 Caroline and CISV friend enjoying the views of beautiful Italy!
---
Register Now!
CISV USA Southern Regional Mini-Camp
September 1-4, 2017
Camp Suwanee
Hosted by our CISV chapter, this minicamp is designed for at least 50 Junior Branch members from CISV's Southern Region.  Ages 10-21 are invited!
Click here for more information.
Register here.
Complete Health Form here.
Pay the Registration Fee here.
The discounted price ($150) is available until July 31.  The price increases to $175 after July 31, and all forms are due by August 11, 2017.
---
Travel Album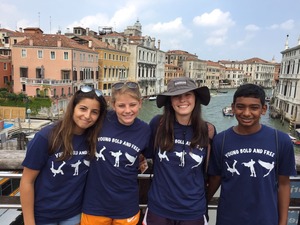 Enjoying excursion to Venice with the Italy Step Up Camp!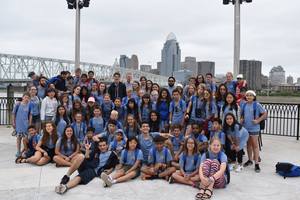 Ohio Village is out on the town!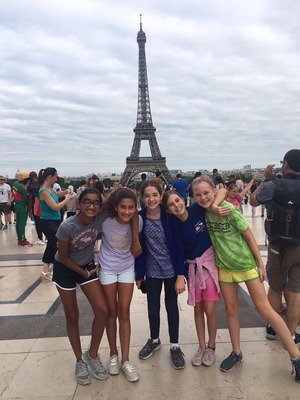 Part of the Prague Interchange detours through Paris!
---
That's all for this week! We hope you enjoyed it!
If you have news you would like to share in a future issue, please e-mail Lynn Bailey.
See you next week!
Forward this message to a friend
"Real cultural diversity results from the interchange of ideas, products, and influences, not from the insular development of a single national style."
Tyler Cowen