Welcome to the 7th Summer Snapshot of 2017!
Our Interchange delegations return from Sweden & Prague.
Belgium Jr. Counselor & Denver Youth Mtg back.
CISVers reflect on their experiences!
---
Register Now!
CISV USA Southern Regional Mini-Camp
September 1-4, 2017
Camp Suwanee 
Hosted by our CISV chapter, this minicamp is designed for at least 50 Junior Branch members from CISV's Southern Region.  Ages 10-21 are invited!
Click here for more information.
Register youth here.
Register as an adult chaperone here.
Complete Health Form here.
Pay the Registration Fee here.
The discounted price ($150) deadline extended to Fri, Aug 11.  The price increases to $175 after Aug 11  and all forms are due by August 28, 2017.
---
Prague Interchange Back from Busy Times
"My most favorite CISV experience was the interchange this year because I made so many friends.I made friends in our delegation, the Czech delegations, and even the German and Swedish delegations we met during minicamps. We laughed all the time and learned valuable information."
– Bella, Interchange delegate, age 12.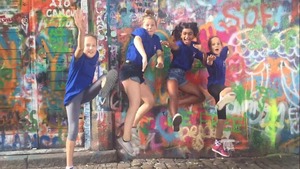 "I was new to CISV and a bit nervous to be leading an interchange, but I had a great group of kids and a co-leader who made it a phenomenal experience for me.   We shared so many laughs and memories and became a big, crazy family. They showed me exactly what it means to be a part of CISV and I am thrilled to have had this opportunity." – Brittney, Interchange Leader
Click here for a video of the travel phase in Prague.
Click here for a video of the hosting phase in Jacksonville.
---
Sweden Interchange Finishes the Travel Phase 
Allison, leader of the Swedish Interchange says, "Our interchange was thoroughly uniting. Everyone came together as one big family, and that's what I cherish the most."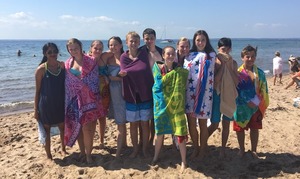 "My favorite times were going with the group in a casual setting and getting to know a new group of friends." – Jack, Swedish Interchange Delegate
See the Sweden Interchange Photo Album.
---
JC to Belgium Village Builds Global Friendships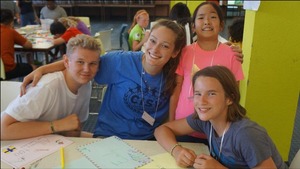 "Being a JC was one of the best experiences I have ever had.  I connected so much with the kids, leaders and other JCs.  At the end of camp, I felt like I had a whole new family, living all around the world." – Emily, JC from CISVJax.
Check out the super fun Village video from CISV Belgium.
---
Denver Youth Meeting Delegate
Explores Human Rights on a Mountainside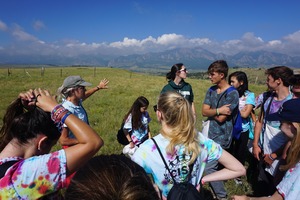 "This is my first Youth Meeting, and it was even better than I could ever possibly imagine! I made 29 incredibly close friends from 13 countries around the world in only two weeks, I experienced an entirely new piece of the country that I call home, and I learned so much about different cultures, foods, lifestyles, and just about people in general. I wish I could go back and stay there forever!" -Raya, age 16
---
---


Remember there is more news shared during the week on Facebook (chapter& JB page) and Twitter. Make sure to friend & follow us if you don't already!
If you have news you would like to share in a future issue, please e-mail Lynn Bailey.
See you next week!
Forward this message to a friend
Peace and friendship with all mankind is our wisest policy, and I wish we may be permitted to pursue it.
– Thomas Jefferson
Learn more at these websites:        Local        National      International