Welcome to the third Summer Snapshot of 2017!
We're publishing weekly through our busy summer to keep you up-to-date with all things CISV Jacksonville! 
This Snapshot will feature Step-Ups to  Spain and Italy, Interchanges with Sweden and the Czech Republic and Step Up Camp Open Day! Sign up for Labor Day weekend Minicamp below.
---
Step-Ups in Italy and Spain Get Underway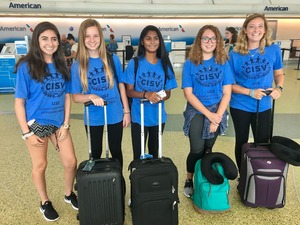 The Step-Up Spain delegation at the airport ready for a great adventure in Madrid.
"Right to Youth" is the theme for the 2017 Step-Up Italy camp held in Ferrera, a village in Northern Italy. The theme for the 2017 Step- Up Spain is "Upgrading Human Rights" since and will be held in Madrid. Both groups have departed for their destination!
Click 
here
 for photo album for Spain Step Up.
Click 
here
 for photo album for Italy Step Up.
---
Sweden and Czech Republic Interchanges Enjoy Time in Jacksonville!
Our delegates held their National Nights here in Jacksonville! During their national night, the Swedes shared Swedish cuisine (Swedish meatballs, chocolate, smoked fish, and other foods), led Midsummer's dances, kicked off an Abba dance party and shared fun facts about Sweden. During the Czech Republic national night, the delegates spoke about the strong history of their country, shared many tradtional foods (like potato pancakes, poppyseed cake, and Karlovy Vary spa wafers), and led a traditional folk dance.  Click 
here for online photo album for the Sweden Interchange
.
 Click here for 
online photo album for the Czech Republic Interchange.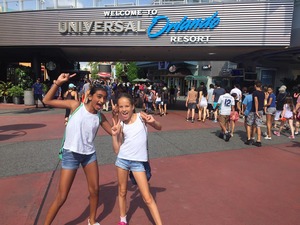 Did you know: The first Interchange was held in 1961. Interchange takes place in two 'phases' – your child joins a delegation that visits another country and is hosted there by a CISV family. Then in return you and your family host a child from the delegation from the country your child visited. Interchange exchanges give your whole family the chance to experience another culture and make new friends and to be part of your local CISV community.
The interchange delegates have been enjoying the sights and attractions of Florida! Groups visited Disney's Magic Kingdom, Universal Studios, the Jacksonville Jumbo Shrimp games, and enjoyed family weekend together!
---
 Step Up Camp Open Day 
At Open Day, delegations sang their national anthem and shared fun facts about their country.  The Vietnam delegation shared a traditional dance while the Mexico delegation led a fun repeat-after-me energizer.  The Sweden delegation demonstrated the traditional "little frog" dance to celebrate the Midsummer festival, and the Austrians taught the Open Day crowd a typical Austrian song. Check out the 
photo gallery
 in the Florida Times Union and the chapter's online Step Up Open Day 
photo album
.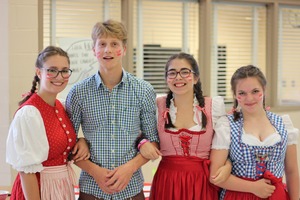 Did you know that Jonas, the leader of the Swedish delegation at our Jacksonville Step Up 2017, came to Village as an 11-year old at the same Jacksonville school location in 2002.  Eleanor Fails-Hayden was the Village director in 2002.  Eleanor, Jonas and Bob, who staffed that 2002 Village, reunited at the Open Day and visited the tree they planted at the school in 2002.  See the photo in  our chapter's online Step Up Open Day photo album. 
---
Seminar Camp Delegate Returns
A seminar camp delegate has returned from Cortina d'Ampezzo, Italy!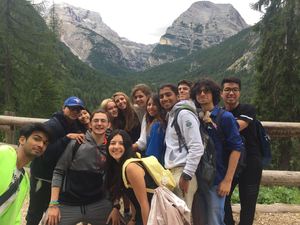 ---
Register Now!
CISV USA Southern Regional Mini-Camp
September 1-4, 2017
Camp Suwanee
Hosted by our CISV chapter, this minicamp is designed for at least 50 Junior Branch members from CISV's Southern Region.  Ages 10-21 are invited!
Click here for more information.
Register here.
Complete Health Form here.
The discounted price ($150) is available until July 31.  The price increases to $175 after July 31, and all forms are due by August 11, 2017.
---
That's all for this week! We hope you enjoyed it! If you have news you would like to share in a future issue, please e-mail Lynn Bailey. See you next week!
Forward this message to a friend
"Peace can only last where human rights are respected, where the people are fed, and where individuals and nations are free."
14th Dalai Lama