A Summer to Remember
Jacksonville, FL-Gorizia, Italy: Interchange 2014

View photo album

 Our new Italian friends (and their US partners): Elisabetta (Olivia), Martina (Sidney), Elisa (Apryl), Ilaria (Kristin), Francesco (Gabby), Ludovico (Jack & Xander), PG (Luke), Gabriele (Albert), Leaders Morgana & Andrea (Brooke & Taylor)
Update #3: August 4; Visiting Italy
(thanks to Interchange mom Andrea Rizzi for all updates)
To quote Local Interchange Chair Steph Welchans: "It (Interchange) is never dull."
Our delegates began their journey to Italy with a very delayed flight out of Atlanta which caused them to miss their connecting flight in Rome to Trieste, which was their final destination. While delayed in Atlanta, had it not been for an overheating bulldog due to the lack of air conditioning, they would not have been allowed to deplane while the mechanics attended to the issue at hand. On the return trip, their flight was delayed out of Rome and their flight out of JFK cancelled. The good news is everything in between was absolutely awesome!
Our delegates were greeted with welcome signs and big smiles by their Italian counterparts who were eager to show them all that the Trieste region had to offer.
As a group they attended the welcome party held at Sistania Beach and Open Day for the Village being hosted by the Gorizia chapter in Fiumicello.

They spent a day in Trieste where they visited Risiera di San Sabba, the only Nazi concentration camp in Italy. It was first used as a prison camp, then as a Polizehaftlager. Somewhere between three thousand and five thousand lives were lost there. 
The group also visited The Synagogue in Via San Francesco, one of the largest synagogues in Europe built between 1908-1912.
On another excursion day, both delegations visited Val Rosandra, a valley centered on a river with the same name. It borders the city of Trieste and neighboring Slovenia. The hike included views of the park's 130 ft waterfall.
There were also family trips to the Grotta Nuova di Villanova also known as the Villanova Caves where stalactites were admired and the temperature is approximately 50 degrees year-round; Venice where delegates meandered through old streets, fed pigeons on the square, and took the vaporetto to Murano to visit the famed glass factory; and Salzburg, Austria where there were tours of Hellbrunn Castle, Salzburg Castle and photo opportunities at The Sound of Music landmarks.
Our delegates also did a lot of swimming in the Adriatic Sea. It's frigid water and rocky floor was a sharp contrast to our warm and sandy Florida beaches.
There were visits to Verzone, an old town destroyed by an earthquake in 1976 and completely rebuilt using the same architecture; hiking in Pramollo through pastures brimming with cows as well as hiking in the Italian Alps where, at the top of the mountain, a restaurant with the most delicious homemade cheeses and pastas were consumed; and a pick-up game of rugby played in the town square. Of course, our delegates ate a lot of gelato, which a trip to Italy would not be complete with out.
Olivia Kato, an Interchange participant commented on the vast differences between life in Gorizia, Italy and Jacksonville, FL. "Italians conserve a lot of energy by driving smaller cars and they also walk a lot more since their cities are more pedestrian friendly and public transportation is very accessible.
 The food is also different especially the soda, which I think tastes better than what we get in the US," she said. "Italians also do not eat pasta for lunch and dinner as one might expect. My host mother made the best sandwiches for lunch and we had homemade gnocchi but not every day. I also loved the landscape of Italy with its vast corn fields which seemed to outnumber the people and buildings in Udine where I stayed. The Adriatic Sea was clear and cold compared to the Atlantic Ocean off of Jacksonville's shores. I loved the history and how old many things were like the two castles I toured that were over a 1,000 years old. My host family also used a clothes line to dry their clothes in the sun which also conserves a lot of energy. Interchange allowed me to have one-on-one time with my host sister, Betta and I learned that we had a lot in common besides being born on the same day. I even got to know the other Italians delegates, especially the girls, more than I would have at a different CISV program. Everyone got along and we had a lot of fun together."
"I really enjoyed experiencing Martina's daily home life and meeting members of her extended family. There were many family gatherings including a late-night birthday celebration for her uncle," said Sid Welchans, who has participated in Interchange for two consecutive summers. "I also appreciated how honest all the delegates were with one another. It made me realize that we all have a lot of the same issues and that we are really not all that different from one another."
Update #2: July 8; Hosting in Jacksonville
The pace has not subsided for the Italian and USA delegations. After a fun-filled day at Universal Studios Islands of Adventure, the girls from both delegations kicked off the week and headed to the beach for some sun and more fun. Thanks to Hurricane/Tropical Storm Arthur, the waves were perfect and plentiful for boogie boarding. When the girls were tired of fighting the current, they hit the shore to hunt for shark's teeth. I am glad our Italian friends were not too spooked by the number of shark's teeth they found on the beach and how that might correlate to what is lurking in the waters off shore!
On Tuesday both delegations found themselves in downtown Jacksonville. Their day began with a tour of the Federal Courthouse arranged by CISV parent and United States Judge Magistrate Patty Barksdale. In addition to an overview of services given by the US Marshall's Office (which included some handcuffing and shackling of our delegates), they also participated in a mock trail in Judge Barksdale's court room to better understand how the United State Judicial system works.
Following their tour of the courthouse, the delegates divided into four groups and hit the streets for a scavenger hunt arranged by the leaders. With maps and cell phones in hand, the scavenger hunt took them to some down town hot spots including The Landing, Hemming Plaza, Chamblin's Book Mine, the Main Library, and over the Main Street Bridge to Friendship Fountain. The scavenger hunt ended with lunch at The Burrito Gallery.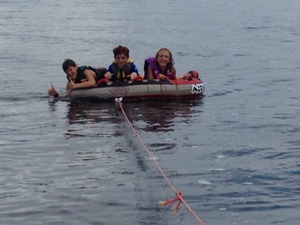 Wednesday our Italian friends got a look at Florida's wild side with a tubing trip down the Ichetucknee River. The slow and steady pace of the ride down the river was in sharp contrast to the often hectic pace that all of our delegates have experienced since the arrival of the Italian delegation almost two weeks ago.
Our leaders are such good sports; the delegates had a great fun flipping them and their tubes over in the river. After lunch, most everyone braved the icy cold waters of the springs, where Dr. Lopez took some awesome underwater pictures of the group.
The Italian delegation experienced their first American Fourth of July celebration in a variety of ways. Francesco hit the mountains of North Carolina with his host family, while Ilaria caught a Jacksonville Suns baseball game with hers. Ludovico spent time at the beach house with his host family and Betta spent hers at an annual Fourth of July picnic hosted by family friends. There was more fishing, more tubing, more swimming also as well as putt-putt golf, go-kart racing and the toasting of marshmallows over an open fire.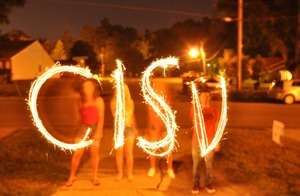 And yes, there were fire works….lots of fireworks in celebration of America's past, its present as well as its future which begins, of course, with children, our children and others involved in CISV from all over the world, who are creating peace while building global friendships and breaking down cultural stereotypes.
Sunday the delegates reconvened for a tour of the Alligator Farm but from the tree-tops above the alligators. Dressed in harnesses and equipped with carabiners, gloves and clips, the delegates, after a safety demonstration (of course) zipped through the Alligator Farm on their highest and most challenging, Nile River Course. If they were fearful at all, you would not have known it; we saw nothing but big smiles.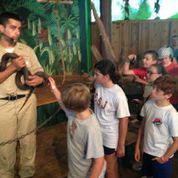 Kudos to parents, Tom, Christine, and Dennis for braving the course along with the kids and ensuring that all had a good time atop the trees. Having worked up some big appetites, the group headed to The Conch House for a late lunch followed by a quick tour of historic St. Augustine. 
Mini-camp began on Monday at St. Mark's Episcopal Church in Ortega. The leaders planned two fun-filled days of activities for the delegates including energizers, team building exercises, and CISV inspired activities.
Special thanks to our mini-camp JCs: Shannon, Jacob, Jamar, Aaron, Julie and Caitlin.
Twelve students from the Sanctuary on 8th Street joined our delegates on Tuesday to get a first-hand CISV experience. It was great to see everyone bond at mini camp and get to know one another better. 
When asked about their Interchange experience, the Italian delegates commented: "Interchange has been a chance to meet new people and live exciting experiences, learning how to look at things in a deeper way before judging others and their countries and with leaders who know when it is time to play and laugh and when it is time to be serious and work."
Update #1: June 29; Hosting in Jacksonville
With open arms and personalized signs, the USA delegation welcomed a very excited but tired Italy delegation to Jacksonville, Florida for a two week Interchange Wednesday night, June 25.
The first two days with the Italian delegates were fun-filled. They wasted no time showing them much of what Jacksonville has to offer.
They toured the zoo and played video games and putt-putt at Adventure Landing; went shopping at the St. Johns Town Center and boogie boarding at the beach; relaxed and watched the World Cup and also played some ping pong.
The group also enjoyed board games like Sorry and Twister and ate frozen yogurt in Avondale; drove go-karts and toured Ch. 4; went fishing (congratulations to Ludovico for catching his first fish) and made homemade pasta—fettucini alla carbonara.
And that was just in the first 24 hours! 
The welcome party was held Friday evening at the home of Rick, Alison and Gabby Carlson. After engaging in a few energizers to get the evening started, everyone dined on traditional American fare of BBQ pork and chicken, baked beans and corn-on-the cob.
After dinner the delegates went swimming where a lively game of
keep-away ensued.
On Saturday afternoon, thanks to Alison Carlson and Jax4Kids, the group enjoyed lunch at the Alhambra Theater followed by a fantastic performance of "Shrek the Musical."
While each delegate had their own favorite character, it is safe to say the parents agreed, unanimously, that Lord Farquod stole the show. 
On Sunday, four fully-loaded mini-vans and SUV's headed to Universal Studios Islands of Adventure.
Delegates, leaders, and parents rode The Hulk and Spiderman, Dr. Doom and the Jurassic Park River Adventure, they dueled on the dragons and played Quidditch with Harry Potter. They drank lots of frozen "butter beer." After which they braved the rapids of Ripsaw Falls only to be soaked further by a torrential downpour.
But they did not let that spoil the fun but rather used it as an opportunity to do energizers in the rain, leaders included (they are such good sports). When the rain subsided and shirts were wrung out and the puddles in tennis shoes poured out, the group stopped for Dippin' Dots and headed home.
The best part about the trip to Universal Studios Islands of Adventure has been the chance to really get to know each other better, and not just the delegates, but our leaders and parent chaperones. 
CISV is not just about building global friendships but friendships at home too.
Our Interchange delegates will have a lot more time to spend getting to know each other. A tour of the court house, a scavenger hunt downtown, and tubing down the Itchnetucknee are planned followed by mini-camp at St. Mark's Episcopal Church. 
Olivia Kato said: "I am really enjoying my Interchange experience and getting to know Betta and the other Italian delegates; I am very excited to travel to Italy and spend time with Betta and her family." 
The Gorizia, Italy chapter has also sent a group of delegates to Denmark where they are joined by their Jacksonville, Florida chapter counterparts. What a cool coincidence.
To read more about participating in a CISV Interchange, click here or visit our programs page to learn more about upcoming opportunities.